School starts Aug. 24. That's less than a month away, and I have 2 girls this year that are going to school. Lilah will be in 1st grade, and Celeste will go to pre-school 3 days a week. So, school shopping is a must! On Wednesday, I packed up my girls and headed to the mall to get some clothes and shoe shopping done. I was at the mall at 9:55, and waiting for my favorite store to open because they were having the best sale ever, and I had an extra 20 % off coupon! Let me just tell you that things went horrible. My children ran around crazy, pulled things off the racks, fought with each other, and acted very naughty. I quickly gathered them up, and headed straight out the door of the store and mall with nothing accomplished. I was so embarrassed and frustrated. I'll just say when we got home, the girls had to go straight to bed and take a nap. I then worked up the courage to go yesterday, and it was soooo much better. I had very well behaved little girls who listened to their mama! We got so much accomplished, and we got everything they need for school.
Lilah is at the age where she likes to pick out her own clothes, and doesn't like a thing that I like. So she told me that Gymboree is a baby store, and she didn't like it anymore. My mouth dropped and I wanted to cry. What did she mean "a baby store". I love this store how could she not like it anymore? Well anyway I still managed to get her to like this outfit...
and Celeste got the same outfit plus this dress that I loved...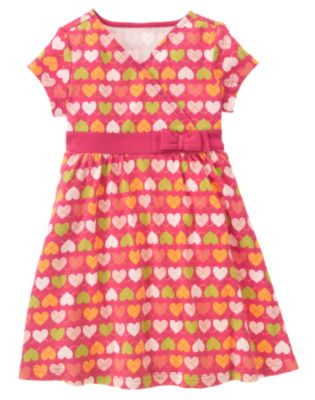 My next stop was Lilah's new favorite "non-babyish" store, and this is just some of the many things she got to pick out...
The Children's Place was next, and here is just some of things I picked out for Celeste...
We went to a few more stores with no problem, and them my favorite stop....SHOES!!! Last year we went to the Stride Rite's buy 1 get 1 50% off sale, and stocked up, and those shoes lasted them most of the school year. So this year we did it again and got some of these...
You can never go wrong with plain white Keds...They go with everything! Then I picked out these pink ones...
and finally I let the girls pick out one pair that they really liked, and they picked out the same...
Not what I would have picked, but they loved them, and they look cute wearing them. We went to a couple of stores after this, and then after almost 4 hours we were headed home with a successful school shopping day!